Los Cabos Airport
VIP Lounge
1

Enjoy a VIP break
Take your time, without rushing

2

The best amenities
Rest away from the crowd

3

Exclusivity at your fingertips
Always receive a warm welcome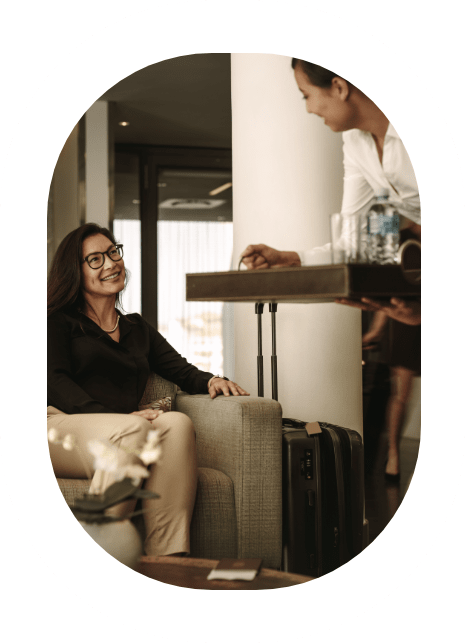 Get the best comfort while waiting for your flight in the VIP Lounge at Los Cabos Airport. Avoid crowded spaces and enjoy a quiet and exclusive lounge to relax. Los Cabos Airport VIP lounge is ideal for solo travelers, families or business travelers, offering you the perfect place to take a break to your next destination. Book online to guarantee your access to all lounge facilities.
TERMINAL 1
After passing through the security checkpoint, follow the sign and take the escalators to the right towards gate A. The lounge is located behind the escalators. This lounge is only for passengers with scheduled departing flights.
Opening Hours:
This VIP Lounge (T1) is open daily from 9:00 am to 21:00 pm.
LOUNGE FACILITIES

TERMINAL 2
Terminal 2 offers a second lounge inside Los Cabos Airport. To access this lounge you must pass through the security checkpoint located at gate #8 next to Starbucks to the south of the Terminal. To enter it is required to purchase a previous membership or a daily fee of $800 MXN per person and for customers with Platinum credit cards such as American Express access is free.
Opening Hours:
This VIP Lounge (T2) is open daily from 9:00 am to 17:00 pm.
LOUNGE FACILITIES

Facilities of the VIP Lounge at Los Cabos Airport
Air Conditioning
Unlimited Internet Access
Open Bar (coffee, juices, and alcoholic beverages)
Conference Facilities Available
Flight information screens
Local Telephone Calls
Kids Club area (second floor)
TV lounge
Disabled Access
Massage Chairs
Magazines and Newspapers
Private Bathrooms
Food
WiFi Available
Electrical connections (for cell phones and laptops)
Additional Information: Telephone access, fax, and conference facilities are subjected to payment. The VIP Lounge is a service independent of the airport. If you require more information contact us.
Please keep in mind: Waiting time in Cabo Airport VIP Lounge is a maximum of 3 hours for international flights and 2 hours for domestic flights. Children under 2 years must be accompanied by an adult.